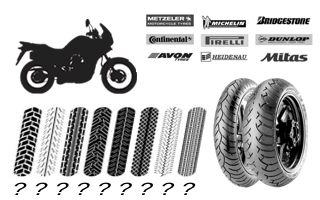 De uppgifter som lämnas på denna sida är bara rekommendationer. myNETmoto frånsäger sig allt ansvar i förhållande till, eller som följd av, krav från er själva eller tredje part för eventuella skador efter montering av däck. Det är på eget ansvar att rätt dimensioner och rätt typ av däck används.
DUNLOP ROADSMART II


Dunlop's new RoadSmart II provides a new benchmark of balanced all-round excellence for demanding riders. A premium sport touring tyre, combining the all-round attributes required, together with improved mileage. Providing the freedom for adve [...]
BRIDGESTONE BT 45


This all-round sports bias tyre is for imported and re-imported bikes and offers the same basic performance as the BT-45. Ideal for the rider who seeks overall high-speed performance.
BRIDGESTONE TRAIL WING


Trail Wing TW301 and TW302 are on-off type tires with primal emphasis on on-road performance, making the tires ideal for the customers who ride off-road motorcycles mainly in metropolitan (city) area.. Considerable attention has been paid to the bala [...]