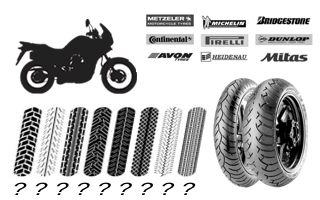 De uppgifter som lämnas på denna sida är bara rekommendationer. myNETmoto frånsäger sig allt ansvar i förhållande till, eller som följd av, krav från er själva eller tredje part för eventuella skador efter montering av däck. Det är på eget ansvar att rätt dimensioner och rätt typ av däck används.
DUNLOP STREETSMART


Combining classic looks with modern technology, the new StreetSmart is ideal for older or classic bikes. Innovative Silica compound offers longer mileage and better wet performance. Ideal for lightweight and classic bikes - Stylish design - State of [...]
BRIDGESTONE BT 45


This all-round sports bias tyre is for imported and re-imported bikes and offers the same basic performance as the BT-45. Ideal for the rider who seeks overall high-speed performance.
PIRELLI SPORT DEMON


New conventional sporty tyre for medium powered sport-touring bikes Lighter and precise handling and stable behavior in all riding conditions given by the multiple radius rear tyre contour Optimized mechanical dry and wet grip without compromisin [...]